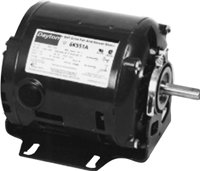 Where would the modern world be without electric motors? Electric motors and pumps are integral parts of our carefree lifestyles even though they do most of their work out of sight. About the only time we become aware of the electric motor and its role in our life is when one of them fails and we're stuck without air conditioning, without our washers and dryers, without our garage door opener or the sump pump that keeps our basement dry. If you find yourself in a tight spot due to a failed electric motor LN is the place to go to get electric motors in Vaughan for any of your appliances, pumps or other applications.
Your One Stop Shop for Electric Motors in Vaughan
At LN Electric we specialize in all types of electric motors for innumerable applications including:
Heating and air conditioning
Direct drive blowers
Pumps for your swimming pool
Coolant pumps
Circulator pumps
And much more…
We've been supplying electric motors to the homeowners and businesses of Vaughan and the surrounding area for nearly 45 years and in that time we've earned the trust of our friends and neighbours by always having the electric motors they need and providing them at the lowest possible price.
Rebuilt Electric Motors
While there's nothing like the sense of certainty that comes with something brand new the fact is that oftentimes repairing an electric motor makes more financial sense than purchasing a new one. Still, many consumers understandably have questions about the safety and reliability of repaired or rebuilt electric motors. The good news is any questions or doubts are unfounded because numerous studies have shown that repaired and rebuilt motors are perfectly safe and can be just as efficient as new electric motors.
Electric Motor Services from LN Electric
At LN Electric we understand how important electric motors are to your home or business and how important it is for you to contain costs at a time when your dollar needs to be stretched as far as possible. Therefore we offer first class electric motor repair services that will save you money both in the short and long term as well as resale of all types of expertly rebuilt electric motors for domestic and commercial use. In addition we offer 24 hour emergency service during which we will repair, modify or customize your electric motor to meet your specifications. Our most common electric motor services include:
General purpose repair and refurbishment
Repair and rebuilding of all types of AC and DC motors
Maintenance repair and replacement of heating and air conditioning motors
Repair of circulatory pump motors, belted fan motors, direct drive motors and more
Service and repair of swimming pool pumps, spa pumps and jet pumps
Maintenance and repair of sewage pumps, coolant pump and high-pressure procon pumps
And much, much more…
LN Electric is your source for new electric motors in Vaughan as well as all forms of electric motor repair, refurbishment and customization. We pride ourselves on the quality of our products and the affordability and reliability of our services.