About LN Electric Motors Ltd.
The company was established in 1973 to provide sales and service for electric motors and pumps. President Sam Badria continues to lead the company into the future as a world class provider of commercial and industrial motors, drives, controls, rewinding of electrical motors and pumps services.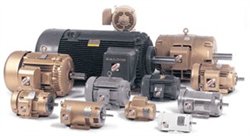 At LN Electric Motors Ltd, We stock new and rebuilt electrical motors and pumps on most leading makes. We have large stock of new and rebuilt AC and DC electrical motors and pumps, air conditioning motors, refrigeration motors, industrial motors, circulating pump motors, blower motors, unit heater motors, condenser fan motors, bathroom fan motors, V-Belts, fan blades, pulleys, electrical mounting kits, bases capacitors, jet pumps, pool pumps, drip shields and drives for AC and DC motors.
We are stocking distributors for most leading manufacturers such as Emerson Electric, GE, Fasco, Marathon, A.O. Smith, Leeson, Baldor, Max Motion, Weg, S.A. Armstrong, Bell & Gossett, Goulds, Taco, Teco Westinghouse, Jaccuzzi, Lafert, Lincoln, J. Class, Franklin, Dayton, Rotom, HICO and Hemco.
Contact Us
At LN Electric Motors Ltd., our mission is to be of immediate service to you in meeting your needs.